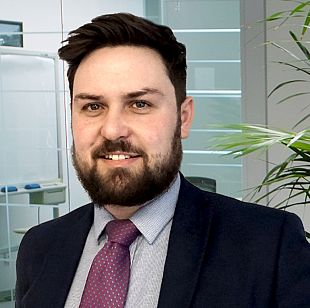 Owain Williams
Tel: 0161 227 7777
Fax: 0161 227 7788
Owain joined Robert Lizar Solicitors in 2019 after working for over 5 years in a large and busy criminal defence practice in Liverpool. He has first-hand in-depth experience in dealing with all types of criminal matters from shoplifting and domestic violence to serious sexual offences, murder and conspiracy to supply.
He is a member of our dedicated team of Accredited Police Station Representatives and will see his clients' cases through to the end. Owain also undertakes Prison Law work and represents prisoners in adjudications before Independent Adjudicators.
Notable Cases
R v JB (2019) - Possession With Intent To Supply Class A - Chester and Stoke-On-Trent Crown Courts
The Defendant faced two separate charges in different courts of possession with intent to supply cocaine and heroin.
Through the effort's of his legal team, case before Stoke-On-Trent Crown Court was discontinued after much of the evidence was deeemed inadmissible. Defendant pleaded guilty to the Chester case and was sentenced to a Lesser Role Category.
R v DJ (2018) - Murder - Liverpool Crown Court
The Defendant was charged with murder after punching the deceased several times which resulted in a tragic death. A complex case with meticulous analysis of post-mortem, forensic and neurological evidence. Charge of murder was eventually substituted to a charge of manslaughter on the second day of of trial. Defendant pleaded guilty.
R v ML & Anr (2018) - Historic sexual abuse Liverpool Crown Court
The Defendant charged with the historic rape and systematic sexual abuse of 7 complainants. Defendant had severe neurological issues and severe mental health problems. After challenging the Crown's case with regards to the admissibility of hearsay evidence and relevance of telephone evidence, case discontinued before trial and Not Guilty verdicts recorded.
R v AA & Ors (2018) - Conspiracy to deal with goods with fraudulent intent - Liverpool Crown Court
The Defendant charged with smuggling £550K worth of cigarettes without paying the relevant duty due on them. Defendant found Not Guilty of Possession or Criminal Property and despite being found to have made substantial financial gain, he avoided Proceeds of Crime proceedings.
R v CB (2018) - conveying unauthorised article into prison (Manchester Crown Court)
A nationally recognised model was charged with taking in a substantial amount of drugs into prison. Defendant pleaded guilty and avoided an immediate custodial sentence.
R v DB (2017) - Sexual assault on a service user (Liverpool Crown Court)
A carer for a residential home for the elderly with Alzheimer's and Dementia was charged with sexual assault on one of the users. Complex case involving the S28 protocol and very technical hearsay evidence, much of which was ruled inadmissible after Owain's efforts in challenging it. Defendant found Not Guilty after trial.
R v LN (2017) - Sexual assault (Liverpool Crown Court)
The Defendant charged with a sexually assaulting a complainant after a night in a club. Defendant had an IQ of 63. Thorough investigation regarding the Defendant's mental health and learning deficits undertaken. Defendant found Not Guilty after trial.